Transformation / Transmutation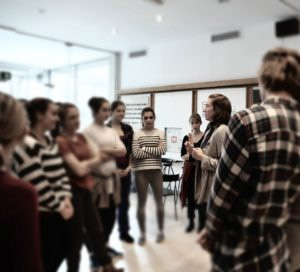 This workshop explores bound flow technique bound flow technique using a movement velocity far below the average slow motion to encourage deeper awareness and perception. We will work in pairs using BLINDFOLDED PERCEPTION. This involves imagination, which is a central discovery throughout our working process. Furthermore we are using the exercise of repeating texts in our mind to come closer to a ritualistic tuning of our movement.
In diesem Workshop wird die Technik des gebundenen Flusses untersucht. Die Technik des gebundenen Flusses verwendet eine Bewegungsgeschwindigkeit, die weit unter der durchschnittlichen Zeitlupe liegt, um ein tieferes Bewusstsein und eine tiefere Wahrnehmung zu fördern. Wir werden paarweise mit BLINDFOLDED PERCEPTION arbeiten. Dies beinhaltet Vorstellungskraft, eine zentrale Entdeckung während unseres gesamten Arbeitsprozesses.Darüber hinaus nutzen wir die Übung, Texte in in Gedanken zu wiederholen, um einem Ritus in unserer Bewegung näher zu kommen.