Performance-Interventions in Public Space in Tallinn during "Deutsche Frühling"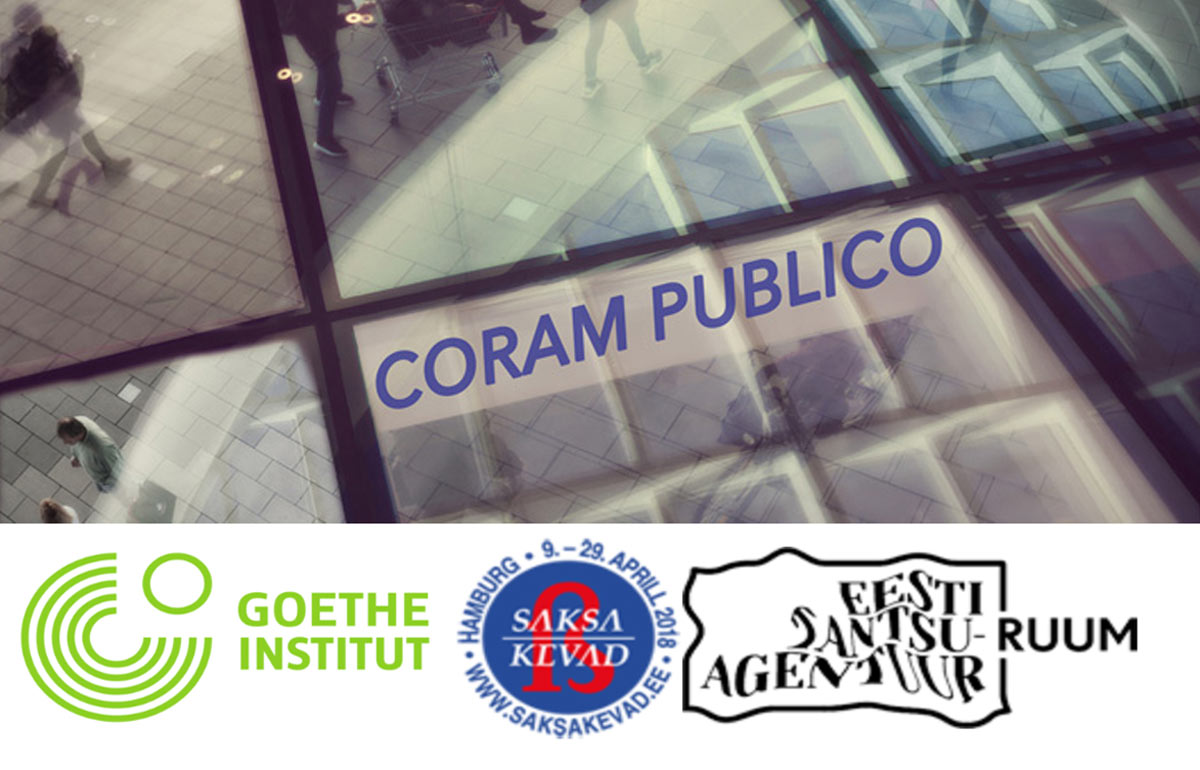 "CORAM PUBLICO" is a performance-intervention about everyday interaction rituals in public space. Stephanie Felber and Barbara Lehtna will create an urban choreography, in the form of three 20 minute interventions during different time slots, each on two days at different locations in public space in Tallinn. Therefore they will choreograph modules that are researching on everyday communications and gestures and are holding a public Workshop in order to get interested or like-minded people to join the project. The movements in which they will engage in this project, are primarily those arising from observations in the everyday urban interspaces like passages, Plattforms, Crossroads, etc.
CORAM PUBLICO lädt im Zentrum von Tallinn ein, an unterschiedlichen Orten im öffentlichen Raum einem Team von Performern und temporär Verweilenden zu begegnen und mit ihnen zu kommunizieren. Innerhalb einer urbanen Choreographie werden alltägliche Handlungsmuster und Interaktionsrituale untersucht und verschiedene Codes beleuchtet, die unseren Alltag regeln. Aspekte bewusst und unbewusst ausgeführter Bewegungen innerhalb sozialer Mechanismen wollen wir zusammen mit Ihnen – ganz spielerisch – auffächern und anschauen.
Zeitrahmen und Ort der Interventionen:
21.April 2018 10.30–12.00 Uhr, Telliskivi Kreativzentrum
22.April  2018 15.00–16.00 Uhr, Harju tn und 16.30–17.30 Uhr, Musumägi, Tallinn
Workshop: Wie schaffen wir performative Situationen im öffentlichen Raum?
19. April 2018: 11.30–14.30 Uhr &. 20. April 2018: 11.30–15.30 Uhr
Konzept: Stephanie Felber in Kollaboration mit Barbara Lehtna
In Zusammenarbeit mit:: Outi Elena Valanto, Iiris Viirpalu, Karmen Ong, Barbara Lehtna
Gefördert durch:  Goethe-Institut Tallinn
Partner: TantsuRUUM, Eesti Tantsuagentuur koostöös Eesti Tantsukunsti ja Tantsuhariduse Liiduga
Workshop: TantsuRUUM, Eesti Tantsuagentuur koostöös Eesti Tantsukunsti ja Tantsuhariduse Liiduga